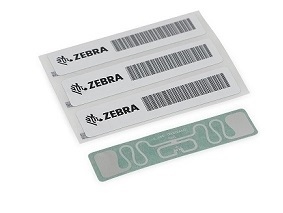 RFID labels for desktop printers
Typical applications include box, pallet and productlabelling, where longer read-range is required or where items are densely packed.
Zebra's RFID labels have been tested and optimised to work with Zebra's RFID printers and readers.
Due to the many variables that can affect read range, we always recommend testing in aplication to ensure suitabily.
The labels for Industrial printers should be printed with 2300 wax or 3200 wax resin ribbons.
Media
Z-Perform 1500T, 73 x 17 mm, 1000 per roll, Inlay Smartrac Belt, IC UCODE 8
10026630
1000 etiketten/rol
2 rollen / doos
Prijs per stuk: € 260,34
Z-Perform 1500T, 97 x 15 mm, 1000 labels, Inlay Zebra Smartrac Short Dipole, IC UCODE 8
10026631
1000 etiketten/rol
2 rollen / doos
Prijs per stuk: € 260,34
On-Metal Labels, Z-Ultimate 3000T, 76x14 mm, EOS-200, UCODE8
10036110
1500 etiketten/rol
2 rollen / doos
Prijs per stuk: € 259,61
Z-Select 2000T, 102 x 51 mm, 500 labels, Inlay ZBR-4000, IC UCODE 8
3014480-T
500 etiketten/rol
2 rollen / doos
Prijs per stuk: € 147,83
Z-Select 2000T, 102 x 152 mm, 200 labels, Inlay ZBR-4000, IC UCODE 8
ZIPRD3014479
200 etiketten/rol
2 rollen / doos
Prijs per stuk: € 81,54
Z-Select 2000T, 102 x 52 mm, 500 labels, Inlay ZEBRA R2000, IC UCODE 8
ZIPRD3014657
500 etiketten/rol
2 rollen / doos
Prijs per stuk: € 84,11
Z-Select 2000T, 102 x 152 mm, 200 labels, Inlay Zebra ZBR2000, IC UCODE 8
ZIPRD3014658
200 etiketten/rol
2 rollen / doos
Prijs per stuk: € 40,72
Z-Polypro 3000T, 76 x 25 mm, 1000 per roll, Inlay Boingtech BT573, IC UCODE 8
ZIPRD3015702
1000 etiketten/rol
2 rollen / doos
Prijs per stuk: € 153,94
Z-Ultimate 2500T, 76 x 25 mm, 1000 per roll, Inlay Boingtech BT573, IC UCODE 8
ZIPRD3015753
1000 etiketten/rol
2 rollen / doos
Prijs per stuk: € 237,95
Z-Select 2000T, 102 x 25 mm, 1000 labels, Inlay Zebra ZBR2000, IC UCODE 8
ZIPRD3015754
1000 etiketten/rol
2 rollen / doos
Prijs per stuk: € 165,61
Z-Select 2000T, 102 x 76 mm, 400 labels, Inlay Zebra ZBR2000, IC UCODE 8
ZIPRD3015755
400 etiketten/rol
2 rollen / doos
Prijs per stuk: € 113,13
Z-Select 2000T, 97 x 27 mm, 800 labels, Inlay Zebra Smartrac Dogbone, IC UCODE 8
ZIPRD3015860
800 etiketten/rol
2 rollen / doos
Prijs per stuk: € 244,26
Mat white PP, 25 x 15 mm, 1000 labels, Inlay Boingtech BT713, IC UCODE 8
ZIPRD3016013
1000 etiketten/rol
2 rollen / doos
Prijs per stuk: € 152,62
Z-Select 2000T, 44 x 19 mm, 1000 labels, Inlay Boingtech BT781, IC UCODE 9
ZIPRD3016344
1000 etiketten/rol
2 rollen / doos
Prijs per stuk: € 111,70
Z-Select 2000T, 54 x 35 mm, 700 labels, Inlay Boingtech BT546, UCODE 8
ZIPRD3016390
700 etiketten/rol
2 rollen / doos
Prijs per stuk: € 118,87
Z-Select 2000T, 102 x 152 mm, 200 labels, Inlay Boingtech BT793 IC UCODE 9
ZIPRD3016390
200 etiketten/rol
2 rollen / doos
Prijs per stuk: € 118,87
Z-Select 2000T, 102 x 152 mm, 200 labels, Inlay Boingtech BT784, Monza M4QT
ZIPRD3016434
200 etiketten/rol
2 rollen / doos
Prijs per stuk: € 82,05
| Code | Omschrijving | Etiketten/rol | Aantal | Prijs/stuk | Prijs excl. | |
| --- | --- | --- | --- | --- | --- | --- |
| 10026630 | Z-Perform 1500T, 73 x 17 mm, 1000 per roll, Inlay Smartrac Belt, IC UCODE 8 | 1000 | 2 rollen / doos | € 260,34 | € 520,68 | Bestel |
| 10026631 | Z-Perform 1500T, 97 x 15 mm, 1000 labels, Inlay Zebra Smartrac Short Dipole, IC UCODE 8 | 1000 | 2 rollen / doos | € 260,34 | € 520,68 | Bestel |
| 10036110 | On-Metal Labels, Z-Ultimate 3000T, 76x14 mm, EOS-200, UCODE8 | 1500 | 2 rollen / doos | € 259,61 | € 519,22 | Bestel |
| 3014480-T | Z-Select 2000T, 102 x 51 mm, 500 labels, Inlay ZBR-4000, IC UCODE 8 | 500 | 2 rollen / doos | € 147,83 | € 295,66 | Bestel |
| ZIPRD3014479 | Z-Select 2000T, 102 x 152 mm, 200 labels, Inlay ZBR-4000, IC UCODE 8 | 200 | 2 rollen / doos | € 81,54 | € 163,08 | Bestel |
| ZIPRD3014657 | Z-Select 2000T, 102 x 52 mm, 500 labels, Inlay ZEBRA R2000, IC UCODE 8 | 500 | 2 rollen / doos | € 84,11 | € 168,22 | Bestel |
| ZIPRD3014658 | Z-Select 2000T, 102 x 152 mm, 200 labels, Inlay Zebra ZBR2000, IC UCODE 8 | 200 | 2 rollen / doos | € 40,72 | € 81,44 | Bestel |
| ZIPRD3015702 | Z-Polypro 3000T, 76 x 25 mm, 1000 per roll, Inlay Boingtech BT573, IC UCODE 8 | 1000 | 2 rollen / doos | € 153,94 | € 307,88 | Bestel |
| ZIPRD3015753 | Z-Ultimate 2500T, 76 x 25 mm, 1000 per roll, Inlay Boingtech BT573, IC UCODE 8 | 1000 | 2 rollen / doos | € 237,95 | € 475,90 | Bestel |
| ZIPRD3015754 | Z-Select 2000T, 102 x 25 mm, 1000 labels, Inlay Zebra ZBR2000, IC UCODE 8 | 1000 | 2 rollen / doos | € 165,61 | € 331,22 | Bestel |
| ZIPRD3015755 | Z-Select 2000T, 102 x 76 mm, 400 labels, Inlay Zebra ZBR2000, IC UCODE 8 | 400 | 2 rollen / doos | € 113,13 | € 226,26 | Bestel |
| ZIPRD3015860 | Z-Select 2000T, 97 x 27 mm, 800 labels, Inlay Zebra Smartrac Dogbone, IC UCODE 8 | 800 | 2 rollen / doos | € 244,26 | € 488,51 | Bestel |
| ZIPRD3016013 | Mat white PP, 25 x 15 mm, 1000 labels, Inlay Boingtech BT713, IC UCODE 8 | 1000 | 2 rollen / doos | € 152,62 | € 305,24 | Bestel |
| ZIPRD3016344 | Z-Select 2000T, 44 x 19 mm, 1000 labels, Inlay Boingtech BT781, IC UCODE 9 | 1000 | 2 rollen / doos | € 111,70 | € 223,40 | Bestel |
| ZIPRD3016390 | Z-Select 2000T, 54 x 35 mm, 700 labels, Inlay Boingtech BT546, UCODE 8 | 700 | 2 rollen / doos | € 118,87 | € 237,73 | Bestel |
| ZIPRD3016390 | Z-Select 2000T, 102 x 152 mm, 200 labels, Inlay Boingtech BT793 IC UCODE 9 | 200 | 2 rollen / doos | € 118,87 | € 237,73 | Bestel |
| ZIPRD3016434 | Z-Select 2000T, 102 x 152 mm, 200 labels, Inlay Boingtech BT784, Monza M4QT | 200 | 2 rollen / doos | € 82,05 | € 164,10 | Bestel |