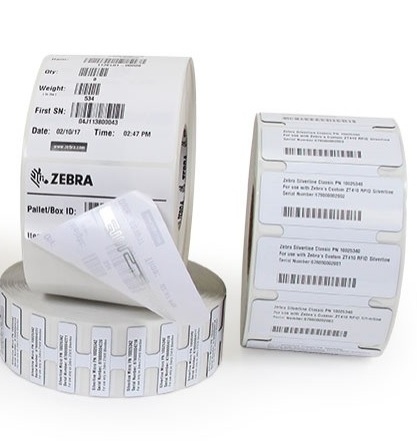 Jewelry RFID labels for desktop printers
Typical applications include labelling of boxes, pallet(s), products and healtcare samples.
Zebra's RFID labels have been tested and optimised to work with Zebra's RFID printers and readers.
Due to the many variables that can affect the read range, we always recommend testing in applitacion to ensure suitabilty.
These labels should be printed with Z2300 wax or Z3200 wax resin ribbons and can be used in ZEBRA industrial UHF printers.
Media
Jewelry RFID label TT Z-Ultimate 3000T white polyester, 76x14 mm, inlay EOS-200, UCODE8
10036110
1500 etiketten/rol
2 rollen per doos
Prijs per stuk: € 259,52
| Code | Omschrijving | Etiketten/rol | Aantal | Prijs/stuk | Prijs excl. | |
| --- | --- | --- | --- | --- | --- | --- |
| 10036110 | Jewelry RFID label TT Z-Ultimate 3000T white polyester, 76x14 mm, inlay EOS-200, UCODE8 | 1500 | 2 rollen per doos | € 259,52 | € 519,04 | Bestel |