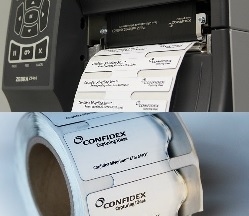 RFID Silverline all-surface labels
Zebra recornize the growing need for on-demand RFID tagging solutions for high value metal items and assets.
In partnership with Confidex we now offer an exclusive and innovative printer and label solution that is reliable, simple and scalable.
RFID labels for use with Zebra Silverline RFID ZT410 printer
All Silverline products are wash and water resistant and have chemical resistance to sulphuric acid, motor oil, salt water and sodium hydroxide (causting soda) - test detail can be found on the data sheets.
Should be printed with Z5095 resin ribbon
Downloads
Media
Gloss White polyester, 45 x 13 mm, 600 per rol, Inlay Silverline Micro II ETSI, IC R6-P
10026763
600 etiketten/rol
Gloss White polyester, 100 x 13 mm, 600 per rol, Inlay Silverline Slim II ETSI , IC R6-P
10026765
600 etiketten/rol
Gloss White polyester, 60 x 25 mm, 400 per rol, Inlay Silverline Blade II ETSI , IC M730
10026767
400 etiketten/rol
On-Metal Labels, Z-Ultimate 2500T, 68x23 mm, Boingtech BT577 Flag, MR6P
ZIPRT3015655
5000 etiketten/rol
| Code | Omschrijving | Etiketten/rol | Aantal | Prijs/stuk | Prijs excl. | |
| --- | --- | --- | --- | --- | --- | --- |
| 10026763 | Gloss White polyester, 45 x 13 mm, 600 per rol, Inlay Silverline Micro II ETSI, IC R6-P | 600 | 1 rol / doos | € 258,25 | € 258,25 | Bestel |
| 10026765 | Gloss White polyester, 100 x 13 mm, 600 per rol, Inlay Silverline Slim II ETSI , IC R6-P | 600 | 1 rol in doos | € 344,27 | € 344,27 | Bestel |
| 10026767 | Gloss White polyester, 60 x 25 mm, 400 per rol, Inlay Silverline Blade II ETSI , IC M730 | 400 | 1 rol / doos | € 338,53 | € 338,53 | Bestel |
| ZIPRT3015655 | On-Metal Labels, Z-Ultimate 2500T, 68x23 mm, Boingtech BT577 Flag, MR6P | 5000 | 1 rol / doos | € 628,93 | € 628,93 | Bestel |