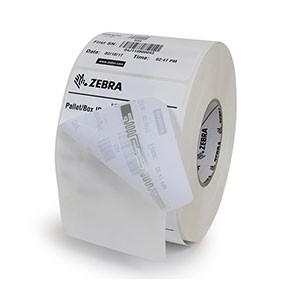 General Purpose RFID labels for industrial printers
Typical applications include labelling of boxes, pallet(s), products and healtcare samples.
Zebra's RFID labels have been tested and optimised to work with Zebra's RFID printers and readers.
Due to the many variables that can affect the read range, we always recommend testing in applitacion to ensure suitabilty.
These labels should be printed with Z2300 wax or Z3200 wax resin ribbons and can be used in ZEBRA industrial UHF printers.
Part numbers less tham 50 mm width will not work in the ZT420R and ZT620R printers due to minimum length specs.
Media
Z-Perform 1500T, 73 x 17 mm, 5000 per rol, Inlay Smartrac Belt, IC UCODE 8
10026623
5000 etiketten/rol
Z-Perform 1500T, 97 x 15 mm, 5000 per rol, Inlay Smartrac Short Dipole, IC UCODE 8
10026624
5000 etiketten/rol
Mat white PP, 50 x 50 mm, 2000 per rol, inlay Boingtech BT784, ic Monza M4QT
10037062
2000 etiketten/rol
Z-Ultimate 2500T, 76 x 25 mm, 4500 per roll, Inlay BT573, IC UCODE 8
ZIPRD3015750
4500 etiketten/rol
Z-Select 2000T, 102 x 51 mm, 2000 labels, Inlay ZBR-4000, IC UCODE 8
ZIPRT3014477
2000 etiketten/rol
Z-Select 2000T, 102 x 152 mm, 1000 labels, Inlay ZBR-4000, IC UCODE 8
ZIPRT3014478
1000 etiketten/rol
Z-Select 2000T, 102 x 51 mm, 2000 labels, Inlay ZBR-2000, IC UCODE 8
ZIPRT3014647
2000 etiketten/rol
Z-Select 2000T, 102 x 152 mm, 1000 labels, Inlay ZBR-2000, IC UCODE 8
ZIPRT3014648
1000 etiketten/rol
Z-Select 2000T, 148 x 210 mm, 600 labels, Inlay ZBR-2000, IC UCODE 8
ZIPRT3015298
600 etiketten/rol
Polypro 3000T, 76 x 25 mm, 4500 per roll, Inlay BT573, IC UCODE 8
ZIPRT3015701
4500 etiketten/rol
Z-Select 2000T, 102 x 25 mm, 4000 labels, Inlay ZBR2000, UCODE8
ZIPRT3015751
4000 etiketten/rol
Z-Select 2000T, 102 x 76 mm, 1500 labels, Inlay ZBR2000, UCODE8
ZIPRT3015752
1500 etiketten/rol
Polypro 3000T, 25 x 15 mm, 4000 per roll, Inlay BT713, IC UCODE 8
ZIPRT3016014
4000 etiketten/rol
Mat white PP, 44 x 19 mm, 5000 per roll, Inlay Boingtech BT781, IC UCODE 9
ZIPRT3016343
5000 etiketten/rol
Z-Select 2000T, 54 x 34 mm, 2500 labels, Inlay Boingtech BT793, UCODE 9
ZIPRT3016389
2500 etiketten/rol
Z-Select 2000T, 102 x 152 mm, 1000 per rol, inlay Boingtech BT784, ic Monza M4QT
ZIPRT3016433
1000 etiketten/rol
Gloss polyester Permanent 44 x 19 mm, 5000 per roll, Boingtech BT781, IC UCODE 8
ZIPRT3016942
5000 etiketten/rol
| Code | Omschrijving | Etiketten/rol | Aantal | Prijs/stuk | Prijs excl. | |
| --- | --- | --- | --- | --- | --- | --- |
| 10026623 | Z-Perform 1500T, 73 x 17 mm, 5000 per rol, Inlay Smartrac Belt, IC UCODE 8 | 5000 | 1 rol / doos | € 1.126,86 | € 1.126,86 | Bestel |
| 10026624 | Z-Perform 1500T, 97 x 15 mm, 5000 per rol, Inlay Smartrac Short Dipole, IC UCODE 8 | 5000 | 1 rol / doos | € 1.126,86 | € 1.126,86 | Bestel |
| 10037062 | Mat white PP, 50 x 50 mm, 2000 per rol, inlay Boingtech BT784, ic Monza M4QT | 2000 | 1 rol / doos | € 343,86 | € 343,86 | Bestel |
| ZIPRD3015750 | Z-Ultimate 2500T, 76 x 25 mm, 4500 per roll, Inlay BT573, IC UCODE 8 | 4500 | 1 rol / doos | € 588,82 | € 588,82 | Bestel |
| ZIPRT3014477 | Z-Select 2000T, 102 x 51 mm, 2000 labels, Inlay ZBR-4000, IC UCODE 8 | 2000 | 1 rol / doos | € 459,46 | € 459,46 | Bestel |
| ZIPRT3014478 | Z-Select 2000T, 102 x 152 mm, 1000 labels, Inlay ZBR-4000, IC UCODE 8 | 1000 | 1 rol / doos | € 259,83 | € 259,83 | Bestel |
| ZIPRT3014647 | Z-Select 2000T, 102 x 51 mm, 2000 labels, Inlay ZBR-2000, IC UCODE 8 | 2000 | 1 rol / doos | € 255,05 | € 255,05 | Bestel |
| ZIPRT3014648 | Z-Select 2000T, 102 x 152 mm, 1000 labels, Inlay ZBR-2000, IC UCODE 8 | 1000 | 1 rol / doos | € 149,07 | € 149,07 | Bestel |
| ZIPRT3015298 | Z-Select 2000T, 148 x 210 mm, 600 labels, Inlay ZBR-2000, IC UCODE 8 | 600 | 1 rol / doos | € 155,85 | € 155,85 | Bestel |
| ZIPRT3015701 | Polypro 3000T, 76 x 25 mm, 4500 per roll, Inlay BT573, IC UCODE 8 | 4500 | 1 rol / doos | € 538,95 | € 538,95 | Bestel |
| ZIPRT3015751 | Z-Select 2000T, 102 x 25 mm, 4000 labels, Inlay ZBR2000, UCODE8 | 4000 | 1 rol / doos | € 482,24 | € 482,24 | Bestel |
| ZIPRT3015752 | Z-Select 2000T, 102 x 76 mm, 1500 labels, Inlay ZBR2000, UCODE8 | 1500 | 1 rol / doos | € 218,15 | € 218,15 | Bestel |
| ZIPRT3016014 | Polypro 3000T, 25 x 15 mm, 4000 per roll, Inlay BT713, IC UCODE 8 | 4000 | 1 rol / doos | € 586,15 | € 586,15 | Bestel |
| ZIPRT3016343 | Mat white PP, 44 x 19 mm, 5000 per roll, Inlay Boingtech BT781, IC UCODE 9 | 5000 | 1 rol / doos | € 588,47 | € 588,47 | Bestel |
| ZIPRT3016389 | Z-Select 2000T, 54 x 34 mm, 2500 labels, Inlay Boingtech BT793, UCODE 9 | 2500 | 1 rol / doos | € 416,07 | € 416,07 | Bestel |
| ZIPRT3016433 | Z-Select 2000T, 102 x 152 mm, 1000 per rol, inlay Boingtech BT784, ic Monza M4QT | 1000 | 1 rol / doos | € 235,26 | € 235,26 | Bestel |
| ZIPRT3016942 | Gloss polyester Permanent 44 x 19 mm, 5000 per roll, Boingtech BT781, IC UCODE 8 | 5000 | 1 rol / doos | € 719,33 | € 719,33 | Bestel |