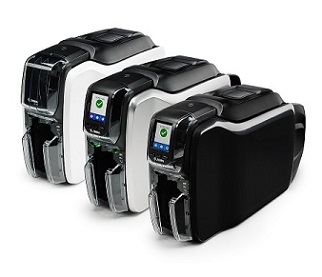 Zebra ZC300/350 cardprinters
Print wat u maar wilt, wanneer u maar wilt, van zo ongeveer overal, allemaal razendsnel. Met de ZC300-serie kaartprinters krijgt u baanbrekende eenvoud, veiligheid en connectiviteits opties voor zelfs de meest complexe kaarten - alles in de slankste pasvorm-overal-ontwerp.
Ongeacht het type kaart dat u moet afdrukken - van identiteit en toegang tot lidmaatschap, evenement en creditcards / betaalkaarten - met de kaartprinters uit de ZC300-serie kunt u het beter, sneller en gemakkelijker doen. De elegante engineering van de ZC300- en ZC350-kaartprinters elimineert vrijwel alle pijnpunten die samenhangen met het afdrukken van kaarten. Het resultaat is eenvoud van drukknoppen, ongeacht wat u afdrukt: enkelzijdige of dubbelzijdige magneetstrip of contactloze kaarten, in kleur of zwart-wit. En met een baanbrekend ontwerp voor overal-overal, kunt u overal waar u het nodig hebt beveiligde kaarten printen.
Als u nog meer nodig hebt, biedt de ZC350 de hoogste afdruksnelheid en geavanceerde afdrukopties waarmee u vrijwel elk kaartontwerp kunt maken dat u maar kunt bedenken. Met ondersteuning voor zowat elke coderingstechnologie, kunt u zowat elk type kaart maken - krediet, debet, identiteit, toegang, loyaliteit, pasjes voor openbaar vervoer en meer. De ZC300-serie - de kaartprinters die alles leveren.
.
Downloads
Printers
Printer ZC300, Single Sided, UK/EU Cord, USB & Ethernet
ZC31-000C000EM00
Printer ZC300, Single Sided, UK/EU Cords, USB & Ethernet, ISO HiCo/LoCo Mag S/W Selectable
ZC31-0M0C000EM00
Printer ZC300, Dual Sided, UK/EU Cords, USB & Ethernet
ZC32-000C000EM00
Printer ZC300, Dual Sided, UK/EU Cords, USB & Ethernet, ISO HiCo/LoCo Mag S/W Selectable
ZC32-0M0C000EM00
Printer ZC350, Single Sided, UK/EU Cords, USB & Ethernet
ZC35-000C000EM00
Printer ZC350, Single Sided, UK/EU Cords, USB & Ethernet, ISO HiCo/LoCo Mag S/W Selectable
ZC35-0M0C000EM00
Printer ZC350, Dual Sided, UK/EU Cords, USB & Ethernet
ZC36-000C000EM00
| Code | Omschrijving | Aantal | Prijs/stuk | Prijs excl. | |
| --- | --- | --- | --- | --- | --- |
| ZC31-000C000EM00 | Printer ZC300, Single Sided, UK/EU Cord, USB & Ethernet | 1 | € 1.717,98 | € 1.717,98 | Bestel |
| ZC31-0M0C000EM00 | Printer ZC300, Single Sided, UK/EU Cords, USB & Ethernet, ISO HiCo/LoCo Mag S/W Selectable | 1 | € 2.056,37 | € 2.056,37 | Bestel |
| ZC32-000C000EM00 | Printer ZC300, Dual Sided, UK/EU Cords, USB & Ethernet | 1 | € 2.186,52 | € 2.186,52 | Bestel |
| ZC32-0M0C000EM00 | Printer ZC300, Dual Sided, UK/EU Cords, USB & Ethernet, ISO HiCo/LoCo Mag S/W Selectable | 1 | € 2.524,91 | € 2.524,91 | Bestel |
| ZC35-000C000EM00 | Printer ZC350, Single Sided, UK/EU Cords, USB & Ethernet | 1 | € 1.718,55 | € 1.718,55 | Bestel |
| ZC35-0M0C000EM00 | Printer ZC350, Single Sided, UK/EU Cords, USB & Ethernet, ISO HiCo/LoCo Mag S/W Selectable | 1 | € 2.056,75 | € 2.056,75 | Bestel |
| ZC36-000C000EM00 | Printer ZC350, Dual Sided, UK/EU Cords, USB & Ethernet | 1 | € 2.186,90 | € 2.186,90 | Bestel |